Klankheling
Lichaamsveldgenezing door middel van klank (Body Field Sound Healing) is bedoeld om uw welzijn te vergroten. De muziek is gecomponeerd door de wereldwijd vermaarde expert op het gebied van klankgenezing, David Gibson van het Globe Sound and Consciousness Instituut in San Francisco, CA. De bio-energetische informatie is geleverd door Nutri Energetic Systems (NESģ), opgericht door de visionairs Harry Massey en Peter Fraser. De laatste ontdekte hoe bio-informatie het menselijk lichaamsveld richt en begeleidt.
Wat is Bio-energetica en Bio-informatie?
Natuurwetenschappers vermoeden dat informatie een bepaalde substantialiteit heeft, en een van de meest fundamentele aspecten is in het universum. NES heeft meer dan 25 jaar onderzoek verricht naar de bio-informatie van het lichaamsveld. Het lichaamsveld is het gestructureerde netwerk van informatie en energie dat ten grondslag ligt aan het fysieke lichaam en de fysiologie aanstuurt. Elk onderdeel in jouw lichaam moet weten wat het moet doen en wanneer het dat moet doen - met een adembenemende precisie. Bio-energetica verwijst naar de energie, die nodig is om alles in ons lichaam te mobiliseren en bio-informatie is de informatie die het ontvangt: de levensinformatie. De film The Living Matrix geeft hier meer uitleg over.
De Muziek van het lichaam
De klank en muziek zijn gebaseerd op de klassieke en moderne
 wetenschap op het gebied van Klank genezing en therapie. De informatie gecodeerd in elk spoor is gemaakt door NES en is gebaseerd uit het jarenlange onderzoek van Peter Fraser. De tonen en melodieŽn zijn gebaseerd op Bio-informatieordening gekoppeld aan bio-energetisch therapeutische effecten.
CD1: Body-Field Sound Healing
Inhoud:

1 Chi Energy
2 Relax and Regenerate
3 Confidence
4 Energetic Detox
5 EMF Protection
6 Chill
7 Mental Clarity
8 Creative Spirit
9 Sexual Energy
10 Unconditional Love
11 Balance and Heal
12 Sleep Well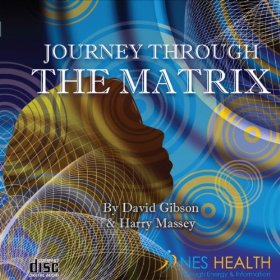 Journey Through The Matrix
Journey Through The Matrix is the second collaboration between world-renowned sound healing expert David Gibson, of the Globe Sound and Consciousness Institute in San Francisco, CA, and Britain's Harry Massey, co-founder of NES Health Limited and producer of the documentary film The Living Matrix: The New Science of Healing.
This CD incorporates bio-information about the human body. The information is provided by NES Health, based on the research of Peter Fraser into how energy and information direct the human body field, and affect health and well-being at the physical and emotional levels.
The music of the Body
Sound, in all forms and certainly in the form of music, imparts its own kind of energy and information. The sounds and music in Journey Through The Matrix are based on both ancient and modern science from the field of sound healing and therapy. The structure of some of the songs is based on the keynotes for archetypal healing modes, which are enhanced by the information encoded from NES Health research that imparts their own kind of therapeutic effect. Together, the music and encoded bio-information provide a one-of-a-kind healing experience that you won't find anywhere else.
CD2: Journey Through The Matrix
Track Information
1. Reconnection
2. Good Grief
3. Overcoming Fear
4. Heart
5. Imprinter
6. Matrix Restore
7. Chakra Star
8. Energetic Star and Memory
9. Calm Mind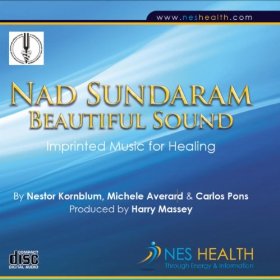 Nad Sundaram Beautiful Sound
Nad Sundaram is the latest imprinted music CD from NES Health. In Sanskrit Nada means "universal sound" or "sacred sound" and Sundaram "beautiful". This CD weaves together ancient and sacred elements and instruments from many cultures with modern acoustic and electronic beats to create beautiful music. Our intention is to offer a truly inspiring sacred music experience, one that is as enjoyable as it is healing, relaxing and refreshing. This is a unique recording in that it blends vocal harmonics (overtones) with the instruments in original ways. The music can be used to enhance inner processes in workshops and healing sessions or simply to enrich your day-to-day experience of life. Each composition has been created with clear intention and minute attention to detail. This CD celebrates all that is beautiful in life: love, peace, harmony, compassion, joy-and even a hint of sadness, which highlights this beauty and helps us to appreciate it more profoundly.
This CD is a very different type of music, each track resonates with one or more of the seven major energy centres called Chakras. It has been created by Nestor Kornblum, Michele Averard, Carlos Pons and Harry Massey. Nestor Kornblum and Michele Averard are the directors and the co-founders of the Spanish and international associations of Sound Therapy. Go to www.harmonicsounds.com for more information.
Track Information:
Each of the seven tracks resonates with one or more of the seven main energy centres, called Chakras, which are located along the spine in the areas of the principal glands of the body. The music can thus be used to harmonise, balance and enhance the free-flow of energy in these centres. Each track is also encoded with information provided by Harry Massey of NES Health Limited based on Peter Fraser's decades of research into the human body-field. The music is imprinted with information in accordance with the original intention for each of the 7 chakras.
CD 3: Nad Sundaram Beautiful Sound
Track List:
1. Shanti Peace
2. MediterrŠneo
3. Kuan Yin
4. Still Point
5. Nad Sundaram
6. Awakening
7. Harmonic Intergration
Bovenstaande CD's zijn in onze praktijk te koop.